Instagram Advertising:

 
Instagram is a free application that allows its users to process and share photos on various social networks, such as Facebook, Twitter, Tumblr, Flickr and Foursquare via Android and the iOS platform.
It was created in October 2010, and already in April 2012, Facebook bought Instagram. It was initially intended only for devices with an iOS operating system and then becomes available in 2012 for devices with an Android operating system. As of June 2013, 15 seconds video recording has been introduced.
Instagram is currently using over 400 million people, making it one of the world's largest mobile advertising platforms.

The Advantages of Instagram Advertising:
•  Low CPC (cost-per-click or cost-per-click) – Instagram advertising is much more affordable than other types of online advertising.
•  High Engagement – Considering the fact that posts on Instagram are very good looking, mainly thanks to Instagram's filters, the engagement is high, which means users are more likely to comment, share, watch Instagram optics because in most cases they are comfortable and attractive appearance.
•  Secure Branding for Brand Identity – By using Instagram, you create an emotional connection with the desired target group that will motivate your supporters to visit your profile more and better connect with the brand.
•  Precise Targeting of the Target Group – Targeting on Instagram is based on a Facebook algorithm, which proved to be very accurate. Since Instagram Engagement is higher, with your Facebook algorithm, your brand will surely reach all those who want to present your product or service.
Advertising Models on Instagram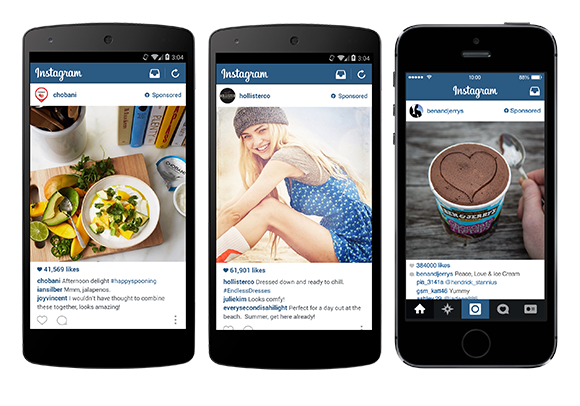 All models of advertising on Instagram are available to global advertisers:
• An image Ad is a format in which a picture tells thousands of words. Each ad also has a link that leads the user to the address that the advertiser has specified.
•  Video Ad is a landscape format, and predefined formats are identical with Facebook. The maximum ad length is 30 seconds.
•  Carousel Ad represents the option of displaying advertisements in multiple photos (from 3 to 5).