Advertise on the Internet and easily reach your target group of customers.
According to a study, 46% of brands don't have a defined marketing plan, whereas 16% do but haven't integrated yet their marketing activities. Let us implement your marketing plan for measurable growth.
Google AdWords advertising has become very popular among companies in recent years.

Easy to reach a targeted group of customers who are already potentially interested in what you offer.

Google AdWords is Google's advertising service on the Internet.

Google search engine where advertisers pay to display various advertisement and also on thousands of websites.

Google Ads program includes local, national, and international distribution.
Advertising on Google has many benefits, let's look at some of the most important:
Measurable– among traditional marketing practitioners There is an old saying: "Half of the couples I spend on marketing throw money. The problem is that I do not know which half "Google advertising is a matter of significant changes, because you can track almost all aspects All you can imagine can be measured.
Quick results – Your ads will begin to appear shortly after the launch of the campaign, so future customers immediately learn about you.
Pay per click – pay only when a user clicks an ad and visits your page.
Precise targeting – By Google Advertising, you can choose who, when and where your ads will appear.
Timeliness– Your ads are shown to users only when they are looking for your product or service.
Budget control – You can increase, decrease or pause budget spending for your ads at any time.
To get a better understanding of the Google AdWords platform please view Google's official video:
Several data related to (Google):
– 79%of the respondents stated that the internet is the first place on which information is requested
– 95% of people under 25 are on the internet daily.
– 93% of people aged 25-34 are on the internet daily.
– 70% of people are searching for information about a product on the internet just prior to purchase.
– 56% of customers bought a product on the internet for the first time
– 61% of users on the internet are looking for information about a product before buying it.
Google Ads – How Do They Work?
Google ads work (in most cases) as a Pay Per Click (PPC) system. What does PPC mean in practice? This means that as an advertiser is charged only when someone clicks on your ad and visits your website.
Since your ads are only shown to targeted users (who search on the Internet relevant to your offer), it's clear that there is no spending on Google AdWords platform. That's why AdWords has the highest ROI (return on investment) of all advertising platforms – not just on the Internet, but also in traditional ways of advertising.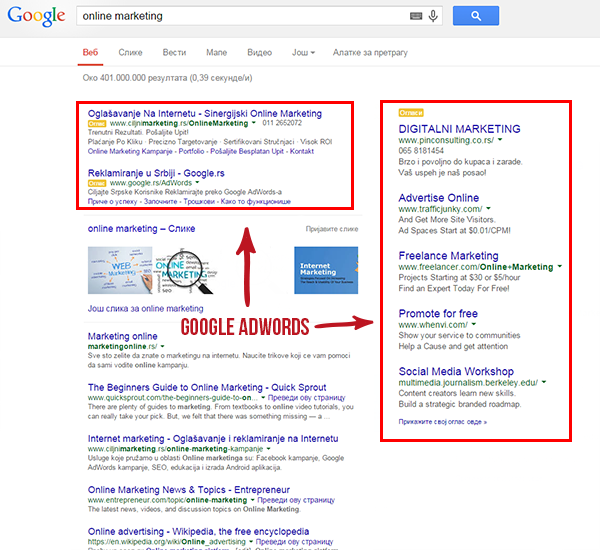 In addition to taking the leading position in the search, Google ads allow you to visualize your ad (banners that creates Pramas to your liking) on the Google Display Network (GPM).
GPM includes more than 2 million web pages worldwide (65% of the 200 most popular sites in the world), including YouTube, Blogger, and Gmail … Just enough to say that GPM reaches 90% of all Internet users, and you will understand the potential of this network.
---
Curious about who we have worked with? Check our clients' page.