Search Engine Optimization
So, why your websites need SEO? Do you have any idea? It is like a regular health checkup of your website covering site architecture, content, backlinks, on page elements and off page essentials. By performing an SEO you can keep an eye on the effectiveness of your current SEO strategy and if required, you can fine-tune the current one or can implement a new one. This is a healthy practice to strengthen site's online relevancy.
SEO refers to search engine optimization or the process of optimizing a website in order to make it easy to find via search engines like Google.
These results cannot be changed by direct payment to Google,  and our company provides SEO optimization, which consists of a series of activities that Google will recognize your website as relevant and reliable, and thus improve your position in the natural search.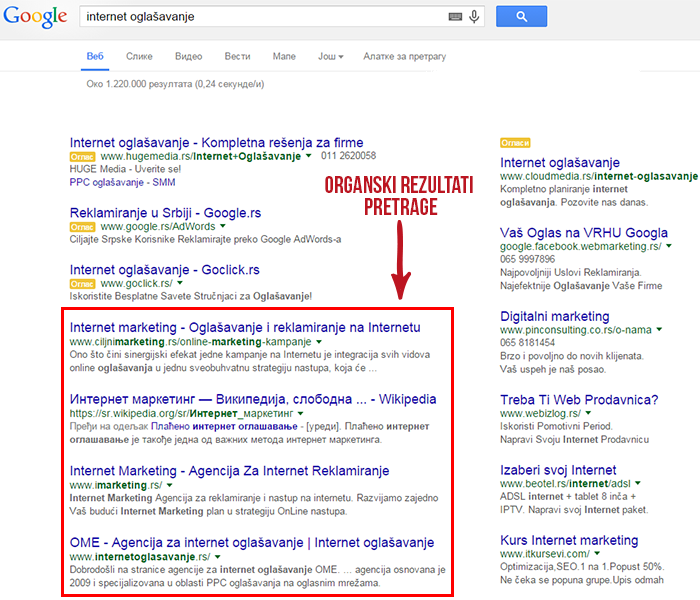 Advantages Bringing Well-Made SEO:
Obtaining the best places

 

– This is definitely the main advantage of website optimization. When you're in the first place for the selected keyword, everyone who typed that keyword into Google search will come to your site. This directly leads to a large increase in the number of visits to the website, and hence the volume of business.

Long-lasting results

 

– Getting the best position in Google search is not easy and you need to pass some time to reach the desired location. But the results of SEO are long lasting and when we put you in the highest position, you will be there when we stop optimizing.

Increasing Brand Consciousness

 

– When you're in the top position, users will see your site and your brand more often, and this will increase awareness of your brand directly in the user's subconscious.
On the SEO site (on page optimization)
On-site SEO optimization of web pages for search engines implies a set of specific actions that will be implemented on the spot in order to position the search. This was done after the analysis was carried out and included the following:
Analyze the current state of your site, market, and competition.

Research and analysis of keywords.

Website structure corrections and links (URLs).

Correction of texts for SEO.

Page Title Adjustment (H1 – H6).

Internal connectivity.

Determining and placing title tags and descriptions, and matching them with content and executing analysts.

Setting up the appropriate ALT tags in the images.

Set the buttons to move content on social networks.

Install Google Analytics, sitemap.xml, Search Console, robots.txt.

Signing the site to search engines, and tracking and speeding up new page indexing.
Link building (outside of SEO location)
This is the most important, but also the most sensitive part of SEO website optimization. This involves building a network of incoming links on the site itself and thus increasing the ranking and authority of websites on search engines. The inbound network needs to be gradually built and versatile, using different and quality methods of link building as much as possible.
It is widely accepted that the highest quality link is the link that is most difficult to get, therefore such links have the highest value. For this reason, as the highest quality link building method, Guest posts and links from articles published on other sites are highlighted.
In addition to these, we also use other methods such as link exchange with other websites, signing up websites in web directories, creating links in forums, and so on.
Building a network of connections should be a constant and lengthy process, which will be done by constantly analyzing the site's position on certain phrases on search engines.
Our Process
Research and audit. This is the "getting to know you" phase, where we'll learn everything we can about your business and your goals. This includes competitive research and keyword research. We evaluate where you are now, we take a look at your competition, we study your buyers, and we evaluate your current tactics. We dig deep into the numbers to see where your current website falls short and address the areas for improvement. This allows us to build a cohesive plan with a clear outline for implementation, effectiveness, and success.
Step #2
Optimize your online properties. Once we've learned about your business and your competitive advantage, we help you develop an actionable plan to optimize your site for search engines. This means making the necessary changes to your existing website copy to adhere to best SEO practices, including proper header structure, cross-linking between pages, incorporating the right keyword phrases (identified in step one) and ensuring all technical aspects are in place. Meta descriptions, page titles, canonical tags, and appropriate redirects will be established, and all public-facing content will be submitted to Google for quick indexing.
Step #3
Build content to drive traffic. We'll develop and publish useful content (blogs, news articles, and other website assets) created to address specific questions from potential buyers at every stage of the buyer's journey, from "top of the funnel" (general interest) to "bottom of the funnel" (ready to purchase).  Your content calendar will lay out a timeline for blog creation, social media promotions, press releases, and link-building. We'll help you leverage your social media properties to engage new audiences and build a community of loyal followers. Finally, we'll help you with content syndication, reaching out to industry leaders and media outlets to expand audience reach and grow your online footprint. We'll identify potential partners and influencers to target for link-building campaigns and PR outreach.
Step #4
Analyze and Report. Which channels are delivering the ROI you need? Which efforts are falling short? You won't be left in the dark with clear, actionable reports built on up-to-date user data. Campaign performance will be constantly monitored against short-term and long-term goals. Regular reports will clearly lay out the status of every campaign and the results generated, allowing you to make course corrections where needed and double down on efforts that are clearly working for your business.
We have built our reputation by providing high-quality professional services for over 6 years. We take pride in helping our clients meet their business goals. We can work with all types of clients both large and small.
We are driven by the passion to explore new strategies, innovate, and experiment. Our mission is to maximize the reputation, performance, and positioning of our customers.
---
Curious about who we have worked with? Check our clients' page.